Pocket Gamer recently announced the finalists of Mobile Games Awards 2020 in association with Game Insight, and AdTiming was once again nominated for Best Advertising & UA, showcasing its strength in mobile marketing and monetization.
According to Pocket Gamer, the "Best Advertising & UA" award is for companies that supported the ecosystem through enabling user acquisition or monetisation through advertising and helped to drive this fast-growing business in games and developers to acquire more users. AdTiming will compete for the final winner against other top players such as Google, Facebook, Chartboost, MoPub by Twitter, Fyber, Ironsource, Minimob, Anzu.io and Bidease.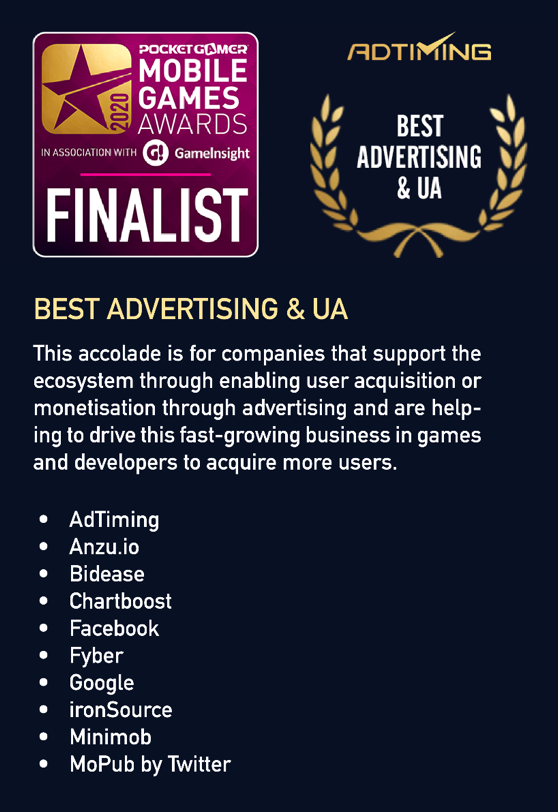 2019 has been one of the very best years for mobile gaming, with many tremendous titles, developers, and new services to get excited about. As a result, it's been harder than ever to put together the shortlist, said Pocket Gamer
The list of finalists represents the very best of the mobile games industry, from the top titles and developers delighting players around the world, to the tools and services companies that underpin the mobile games sector. The winners will be selected by a panel of games industry judges, and will be announced during Pocket Gamer Connects London on January 21, 2020.
The "Best Advertising & UA" award indicates service providers are recognized as an equally important and indispensable part in the games industry. It's especially true as today's market is more challenging than ever for small and mid-sized mobile gaming studios vying for greater user traffic.
According to WePC research, 73.1% of game developers see competition as the largest threat to their mobile games business as of 2017, and in the age of digitalization and high accessibility, the competitive landscape has become even fiercer over the past few years.
However, profitable growth and top ranking in the app charts is possible with a game development approach that incorporates an integrated user acquisition (UA) and monetization strategy. Experienced service providers such as AdTiming come into play to help address such issues.
As a leading mediation platform in APAC, AdTiming strives to bring the best in-app advertising solutions to global mobile developers. Its mediation product features industry-leading smart ad loading and inventory technologies, including smart ad inventory, optimized pre-loading, adaptive waterfall system and developer-friendly API, delivering the perfect combination of high fill rate, high revenue as well as better user experience.
Following a decade of explosive growth, mobile advertising is undergoing transformation from simple and blunt ads to more refined and interactive operations. AdTiming has always been open-minded and collaborating with partners to jointly bring revolutionary ad experiences to the world. Apart from traditional banner, interstitial, rewarded and native ads, AdTiming introduced cloud-based real-game playable ad technology in association with a third party this year, enabling advertisers to present real gameplay while obtaining more high-value users, improving retention rate, and thus achieving win-win for both the supply and demand sides.